Permanent Makeup Training
Meet Your Trainer
Ms Paige is committed to providing the best in Cosmetic Tattoo & Microblading Training in the region. She takes a mentoring & hands on approach to training and is passionate about your success in the industry. Paige will happily accept students in the medical, cosmetology or tattoo field.
Paige offers private trainings / paid apprenticeships and below is class info for your review for both Fundamentals and Intermediate/Advanced Training.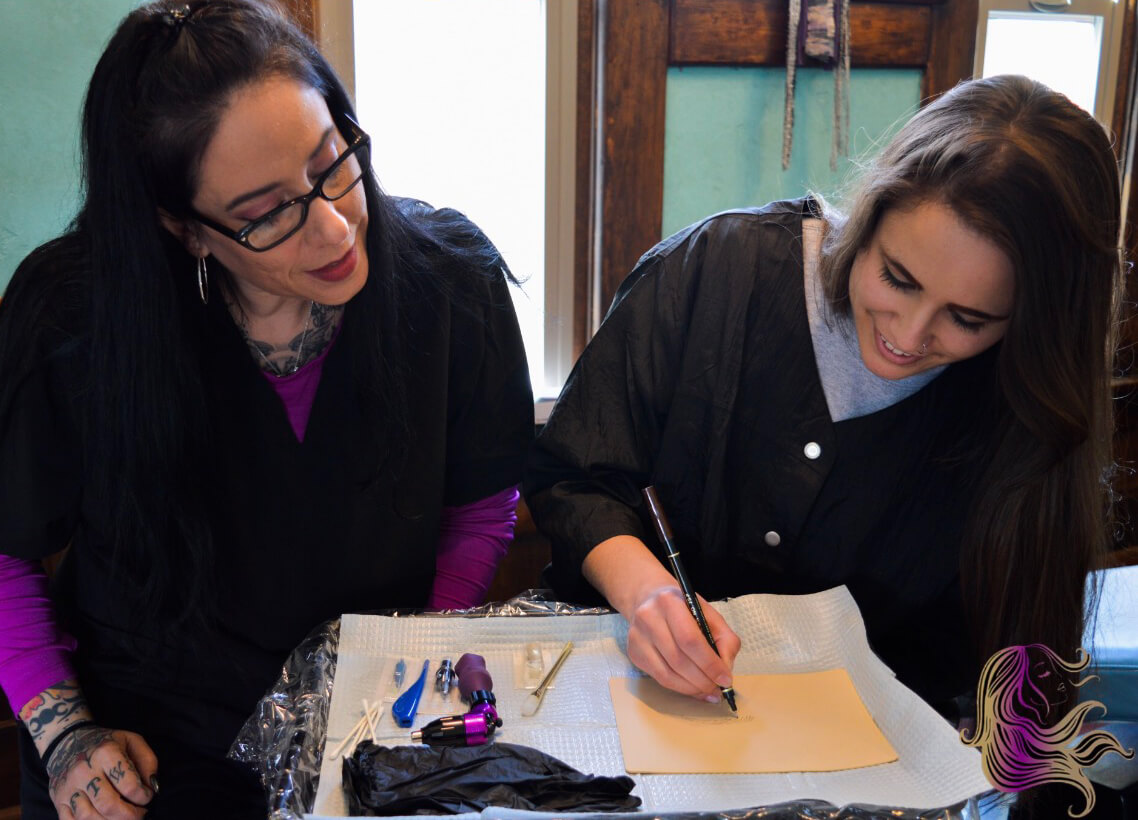 This training has a BASE minimum SPCP industry standard 65 hours hands on – 100 hours total. FOR YOUR FIRST YEAR YOU WILL BE DOING MANUAL METHOD TATTOOING ONLY – Softap & Microblading. Because if you have no Tattoo experience – it would just be a irresponsible to put a machine in a novices hand after that short amount of time. After one year at your continuing education we will do advanced pigments, machines, paramedical etc.
Anyways to begin: Minimum of 2 days would be spent shadowing at my shop where you will closely observe what i am doing, you will be given exercises to practice on matts between that time & your 5 days additional days spent at your shop working on a minimum of 10 supervised models for your portfolios – which is what the model schedule is for. For a industry standard minimum total of 7 days of hands on.
The Fundamentals fee includes techniques for 3 different kinds of brows – shaded, microbladed, combo – 3 different kinds of liners, and lips ( liner or full lip depending on trainee's skill level) Permanent Cosmetic Corrections, and ****basic permanent Cosmetic Tattoo removal – if legal in your area.
You receive an amazing full kit to get you more than started is included valued at over $500 full of the best quality pigments, topicals, needles & micro blades, 2 text books & 1 work book, coffee & lunch everyday for your 5 day part hands on part of the class. As well as ongoing mentoring after the class.
If you do not live in the local area – Additional hours can be earned by working with local tattoo artist friends for helping set up, break down, sterilize equip and learn more about intake and after care procedures – different needles, machines, pigments etc
Here's a few articles you may find helpful as well. To see the first article by Salon Guru click here and to see the second article by Buzzfeed click here.
Examples of Paige's Techniques
Intermediate / Advanced Training
I also offer advance trainings for continuing education students, tattoo artists, or for microbladers looking to complete their fundamentals – the rates, syllabus, kit, and model schedule will vary depending on how many hours you need, which will be agreed upon previous to starting the course. In my Intermediate?advanced training you can learn rotary machine work / manual method cross-over and/or learn paramedical techniques.
Feel free to call us so we can email your enrollment agreement, deposit information and secure your dates. At the time the deposit is received we will start sending out your educational materials.
We are honored that you choose us to further your education in this amazing industry.